How we're keeping commerce human
Carbon-Offset Shipping and Packaging: Delivering a world of good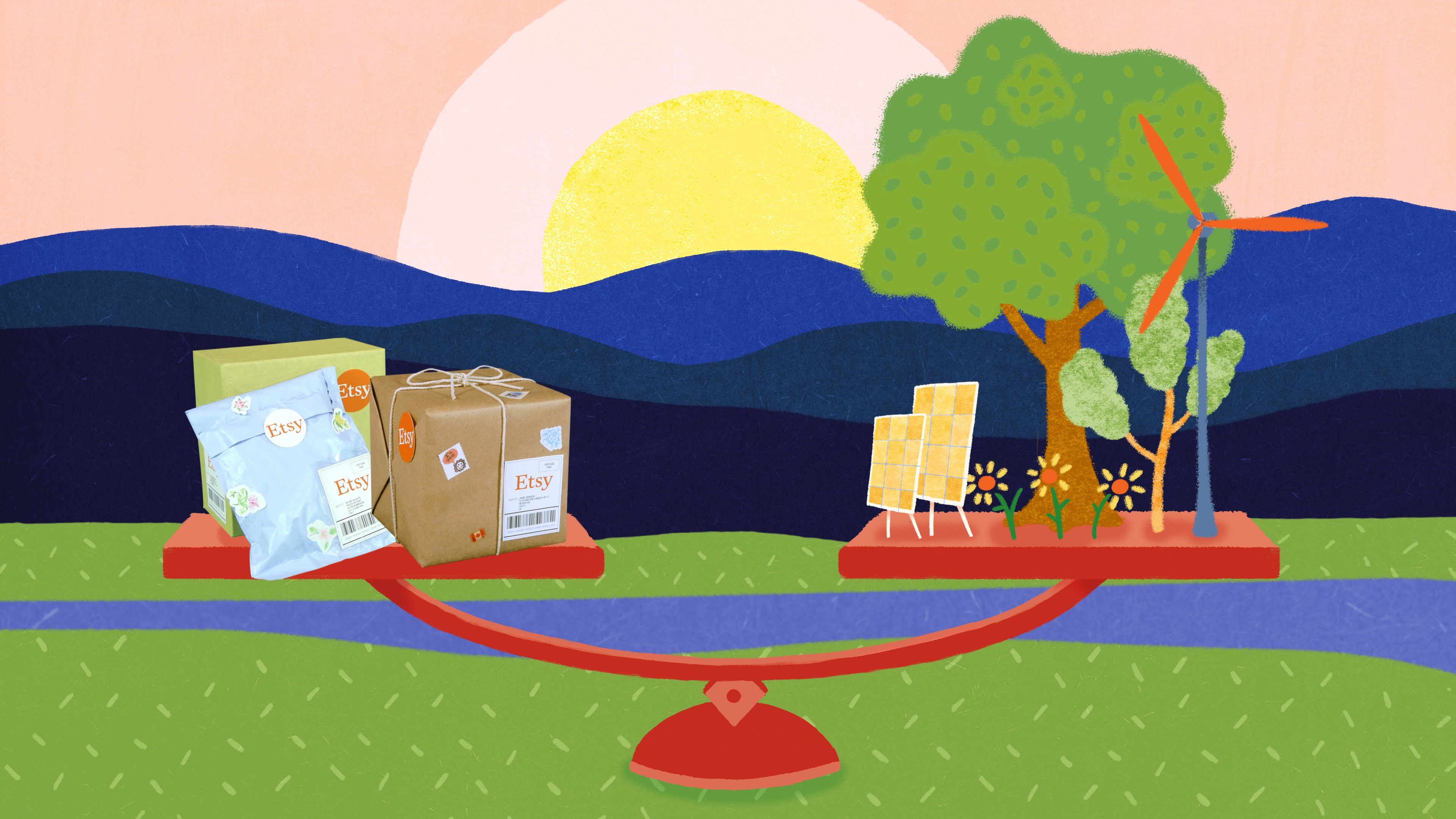 Etsy is the first major online shopping destination to offset 100% of carbon emissions from shipping and packaging.*
Now, every time you purchase an item on Etsy, we balance out the carbon emissions by creating positive environmental impact.
What does it mean to offset emissions?
It means that for any carbon emissions released into our atmosphere as a result of shipping and packaging items on Etsy, we invest in projects that reduce carbon emissions by the same amount.
How does it work?
We fund verified emissions reduction projects through our partner 3Degrees. These investments support environmental projects, such as protecting forests that improve air quality and absorb carbon, sponsoring wind and solar farms that generate clean energy and replace fossil fuels, and developing greener methods for producing auto parts.
Will this come at a cost to me?
No, this will not cost anything for our buyers or sellers. It's simply another great thing about shopping on Etsy.
Why is this important?
Etsy has always been conscious of our impact and actively worked to lighten our carbon footprint. We believe that if we all work together towards positive change, we can make the world a better, healthier place.
Understanding Our Impact
At Etsy, we use the power of our business to drive positive change and create value for all our stakeholders. Our mission to keep commerce human goes beyond simply connecting buyers and sellers in our marketplace. It also means having positive impact on our community, our environment, and the global economy.
Economic Impact
At Etsy, we like to say that economic empowerment is our day job. In our marketplace, creativity can turn into a thriving business. We bring sellers millions of buyers and provide them with tools and services that make it easy to run a business. But our support doesn't end there. From advocating for public policies that increase economic security to providing financial relief when disaster strikes, we have our sellers' backs.
Read more about our economic impact goals and efforts here.
Ecological Impact
Protecting the planet we all call home has been a priority for Etsy since day one. In the face of a changing climate, we are urgently working to lighten our carbon footprint. We're proud to be the first major online shopping destination to completely offset carbon emissions from shipping and packaging. All of our operations, including our marketplace, are powered by renewable electricity.
Read more about our ecological impact goals and efforts here.
*According to research conducted by 3Degrees.